I asked Jennifer about her beautiful buttons and she replied -
Embellish A Little buttons are made from Australian stoneware porcelain creating a highly durable product. Every button is handmade, hand sanded and hand painted then kiln fired. As they are individually crafted each one will be slightly different to the next. The buttons are washable and the colours will not fade.
Decal buttons are ceramic and have a decal transfer that have been fired into the glaze.
They can be used for a variety of projects, embellishing quilts, handcrafted items, teddy bears, dolls, scrapbooking, embroidery and patchwork.
I hope you love using my buttons as much as I love creating them.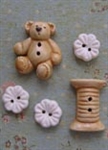 Take a look at her website
http://www.embellishalittle.com/
and I'm sure you will be as excited as me about her fabulous creations.